Heavy snow buries parts of Glencoe Mountain ski centre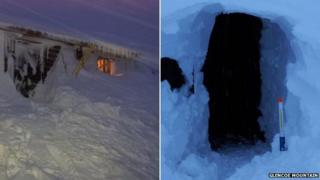 Parts of a Scottish ski centre have been almost completely buried under snow following six weeks of snowfalls.
Staff at Glencoe Mountain said the depths "massively exceeded" those experienced in the winter of 2009-10, one of Scotland's best ski seasons.
The resort's ski patrol shed, which is a log cabin, is one of the areas at the site which has been buried.
Glencoe Mountain is one of the five snowsports centres in Scotland hoping for a good winter season this year.