Consent for major energy projects at Rosyth and Moy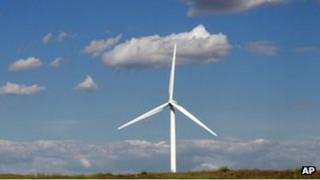 Major renewables projects in Fife and the Highlands have been given planning consent by the Scottish ministers.
Forth Energy plans to invest £325m in a combined heat and power biomass plant at the Port of Rosyth.
Eneco Wind UK has proposed a £65m, 20-turbine wind farm at Moy, near Inverness.
The wind farm was given consent in 2012, but the developer re-submitted the application because they wanted to increase its generating capacity.
The government said the Rosyth plant would create work for 500 people during its construction. Seventy staff would be needed to operate the site.
Building the wind farm was expected to generate work for up to 60 people.
Energy Minister Fergus Ewing gave consent for the Fife project.
'Responsible sources'
He said: "The combined heat and power plant at the Port of Rosyth will create hundreds of jobs during its construction, and while in operation will continue to support local employment while generating renewable power for local business and industry.
"In consenting this application I have put in place a series of conditions to protect local residents from inconvenience, and protect the environment and air quality.
"The conditions to the consent also ensure that the fuel used in the biomass is from sustainable and responsible sources."
Finance Secretary John Swinney, who approved the wind farm, said: "The Moy wind farm will create a significant number of jobs, as well as generating power for many thousands of homes."
Scottish Renewables, an organisation promoting electricity generation from wind, wave, solar, hydro and biomass schemes, has welcomed the decision on Forth Energy's plans.
Policy manager Stephanie Clark said: "This consent is great news for the renewables industry in Scotland - and particularly for the growing renewable heat sector.
"Biomass can play an important role in Scotland's energy mix and combined heat and power plants like Rosyth will help to meet our renewable energy targets as well as reducing carbon emissions."