Row over Highland councillor Wilson's democracy comment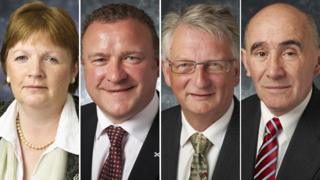 Highland Council's administration has asked a councillor to apologise for her accusation that the local authority was "stifling democracy".
Carolyn Wilson's criticism followed a bid by independent councillors to cap council rent rises at 1% and not raise them by 2%.
After legal advice, their motion was declared incompetent because it was not known how the council could afford 1%.
Ms Wilson has declined to comment on the administration's demand.
The SNP, Labour and Lib Dem ruling administration said Independent Group leader Ms Wilson could be referred to the Standards Commission for Scotland.
The row has broken out following a meeting of the local authority's finance committee.
Independent councillors Laurie Fraser and Donnie Mackay wanted a vote on a proposal to raise rents by 2% and lodged a motion for it to be capped.
However, following legal advice from assistant chief executive Michelle Morris, committee chairman Dave Fallows declared the motion incompetent.
After the meeting, Ms Wilson accused the council of "stifling democracy".
The council's leader Drew Hendry, depute leader David Alston and convenor Jimmy Gray have asked her to retract the claim and make a public apology.
Mr Alston said the situation was not political, but rather about councillor conduct and respect for officials in public.
He said if Ms Wilson refused to withdraw her comments and apologise the council would look to refer the matter to the standards commission.
Ms Wilson declined to comment on the matter.
'A dictatorship'
Highland Council's leadership and independents have clashed before.
Last year, the Independent Group accused the administration of acting "like a dictatorship".
Ms Wilson made her criticism after the creation of a new welfare reform working group.
She said independent councillors were at first offered just one place on the working group.
Ms Wilson said that after "much huddling and conferring" a second place in the welfare reform working group was given to an independent councillor.
But she said the handling of the situation "represented another sign of the dictatorship that is now Highland Council".
The SNP, which leads the administration, described her claims as "preposterous".