New areas may get rural fuel discount scheme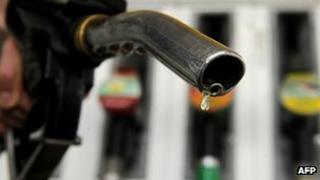 The UK government has asked the European Commission to approve an expansion in the fuel duty discount scheme for rural drivers.
Seven new regions in Scotland and part of north-east England stand to benefit from a cut of up to 5p in the cost of a litre of petrol or diesel.
The Treasury said approval for these areas and another 10 already identified would help 125,000 people.
A decision on the proposal is expected later this year.
The applications cover postal areas in Strathcarron, Ullapool, Lairg, Mallaig and Halkirk in the Highlands; Oban in Argyll and Bute; and Hexham in Northumberland.
They are added to 10 applications already identified in the Highlands, Argyll, Cumbria, Devon and North Yorkshire.
Chief secretary to the Treasury Danny Alexander said: "High fuel prices in areas where cars are a necessity, not a luxury, is a major issue in rural communities across the UK.
"So, following a supplementary call for information, I'm pleased to announce that seven new areas will join the 10 areas already part of our new application.
"Reaching agreement with the commission will not be easy, but we will now get on with making that case as strongly as we can."