Mother loses bid to sue NHS Highland for £10.5m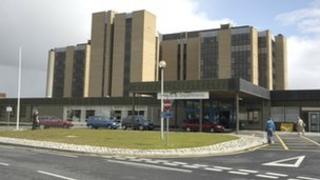 A mother who sued a health board for £10.5m following the birth of her daughter who suffers from cerebral palsy has lost her case.
The woman claimed that the girl suffered catastrophic injury because of fault and negligence by medical staff at Raigmore Hospital in Inverness.
NHS Highland had denied liability in the action raised at the Court of Session in Edinburgh.
A judge has rejected the woman's bid after a lengthy hearing.
Lord Kinclaven said that she had been unable to prove her case alleging that negligence caused, or materially contributed to, an obstruction of the girl's airway at, or after, the time of her birth 14 years ago.
He said: "Clearly this is a case of the utmost importance to the pursuer and all those involved."
"I have given anxious consideration to the pursuer's allegations in relation to negligence and causation but, on the evidence, I am unable to accept them."
Lord Kinclaven said the health board was entitled to be absolved from the action.
'Catastrophic brain injury'
The first-time mother, known in the case as JM, was confirmed as pregnant in 1998 at the age of 33 and her daughter was later delivered following a Caesarean section at Raigmore in 1999.
Lawyers acting for the woman claimed that the baby suffered "an entirely preventable catastrophic brain injury".
They argued that the child's trachea was obstructed with meconium - material found in the bowels of a foetus prior to birth - inhaled during the later stages of labour.
It was maintained that had those attending to the mother at birth shown the ordinary skills expected of members of their professions, the baby would have been delivered earlier and would not have inhaled the meconium deep into her windpipe.
But Lord Kinclaven said on the whole evidence he agreed with NHS Highland that the mother had not established any of the breaches of duty claimed in the action.
The judge said it was unfortunate that it may never be known what happened to the girl.