Rundown of Dounreay workforce delayed by 'a number of years'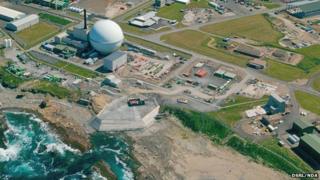 Plans to reduce the workforce at the Dounreay nuclear site have been pushed back "a number of years".
Management and staff have been asked to do additional work by the Nuclear Decommissioning Authority (NDA).
Bosses said this meant a planned rundown in staff numbers starting in about five years had been delayed.
However, the unscheduled extra work in security and fuel-related projects will have to be handled within the plant's current budget.
The site's management said this posed a challenge.
Dounreay managing director Mark Rouse said some work that was to be handled this year would have done later to free up time and funding to tackle the additional tasks.
He said the situation was a cause of concern for workers, but he said it would not mean budget cuts or affect the contract to decommission the former fast reactor research and development site.
Mr Rouse said: "One thing that is clear already is that this additional work will mean the rundown in numbers that we have been forecasting to start in five to six years will move out by a number of years, which is good news.
He added: "Staff are being kept informed of progress through weekly bulletins, and trade unions, the site's regulators, the Office for Nuclear Regulation and the Scottish Environment Protection Agency, are also being regularly briefed."