Walker survives huge avalanche in Cairngorms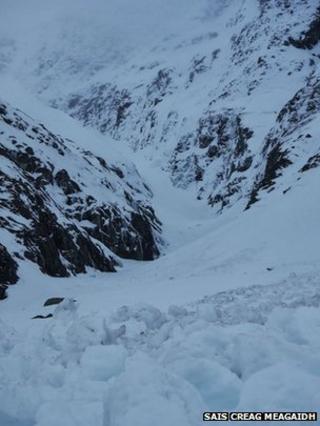 A walker has escaped uninjured from an avalanche in the Cairngorms.
The 47-year-old went through a cornice - an overhanging edge of snow - in Coire Cas, triggering the snow slide on Saturday.
The man, whose two friends raised the alarm, walked out of the coire in a blizzard to the CairnGorm Mountain ski centre car park.
Willie Anderson, of Cairngorm Mountain Rescue Team, said the avalanche was huge.
He told BBC Radio Scotland that, by using his ice axe, the walker had managed to slow his decent.
Mr Anderson said: "He ended up on top of the debris rather than underneath it."
After the alarm was raised, members of Cairngorm Ski Patrol and mountain rescue probed the debris for the climber.
Mr Anderson said: "Unknown to us at that time the guy had survived and was walking out of the coire in the blizzard.
"It was a huge avalanche. The tip was about 150 metres wide and in some places it was two to three metres deep."
Seventy-five avalanches have been recorded by the Sportscotland Avalanche Information Service in the last month.
As well as the Cairngorms, avalanche debris was been found at Creag Meagaidh on 16 January.