Bhlaraidh wind farm near Invermoriston given go-ahead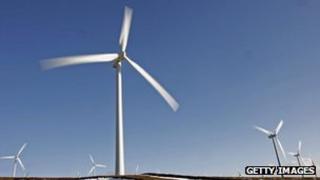 Proposals for a 32-turbine wind farm near Invermoriston in the Highlands have been granted planning consent by the Scottish government.
Bhlaraidh Wind Farm will be developed by SSE Generation Limited and, once completed, will supply power to about 50,900 homes.
Energy Minister Fergus Ewing said the project would create work and bring significant community benefit funding.
The Mountaineering Council of Scotland raised concerns about the proposals.
In 2012, the organisation said Bhlaraidh and other applications for major wind projects were a "deluge" that threatened to industrialise wild landscapes.
The Bhlaraidh development will take place at a site on Glen Moriston Estate.
The government said that a "significant number of jobs" would be created during the construction phase, which could cost an estimated £166.3 million.
About 60 people would be needed to operate and maintain the site.
The scheme would raise about £13m over 25 years for community benefit projects, the government added.
Mr Ewing said: "The Bhlaraidh wind farm will create jobs both in its construction and during its lifetime, and once up and running will save thousands of tonnes of carbon dioxide each year.
"Wind farms like this provide considerable benefits to their local community, and play an important part in helping Scotland reach its target of the equivalent of 100% of electricity demand generated from renewables."