Highland osprey 'killed in collision in fog' in Seville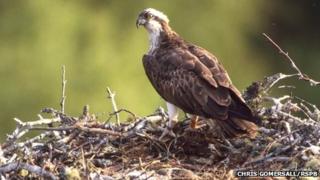 An osprey raised in a nest in the Highlands has died after an apparent collision with a cable in Spain in fog.
The bird, which had been satellite-tagged at RSPB Scotland's Loch Garten reserve in 2012, was found dead in the cloisters of a convent.
Ornithologists believe the osprey, called Caledonia, collided with a tension cable for a lightning rod on the San Clemente convent in Seville.
The osprey had migrated from Scotland to Spain.
Caledonia, who was given her name by schoolchildren, had been observed hunting for fish in the Guadalquivir river in Seville.
Loch Garten, near the Boat of Garten, has had several dramatic twists to its osprey breeding seasons and the birds' migrations over the years.
In 2007, an adult male kicked eggs fathered by a rival from a nest before accidentally trampling on his own clutch.
A year later, a bird called Deshar died after making a "navigational error" and missing landfall in the Azores.
Fastest migration
Then in 2009, Deshar's sister Nethy was thought to have died after reaching Africa.
Other birds, however, have had more successful migrations.
In 2012, Caledonia's sister Alba made what the RSPB believed to be the fastest migration of any satellite-tagged European osprey.
She flew 3,000 miles (4,828 km), from the Highland reserve to West Africa in two weeks.
The bird was making its first migration, journeys that usually takes the birds months to complete.
Alba and Caledonia were fitted with tags before leaving their nest.