New funds for west of Scotland wrecks research project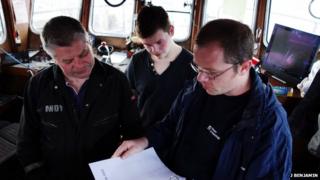 An underwater archaeology project that has discovered dozens of previously unrecorded sites has been given funding for a further two years.
Project Samphire is a community-based initiative led by WA Coastal and Marine and Royal Commission on the Ancient and Historical Monuments of Scotland.
It has support from the Crown Estate, which is providing a further £75,000 in funding over two years.
It will allow the research work to continue off Scotland's west coast.
Archaeologists involved draw on the local knowledge of divers, fishermen, coastguard personnel and harbour masters to help them investigate previously unrecorded wreck sites.
Over the last year, more than 40 archaeological sites, including wooden shipwrecks, cannons, ancient anchors, prehistoric fish traps and more recent small fishing vessels have been noted.
Archaeologists have also recorded a series of metal-hulled shipwrecks near Loch Torridon from the 19th and early 20th Centuries.
They have also found wreckage from a large unidentified 19th Century wooden ship wreck near Kinlochbervie harbour and a similar site at Loch Laxford.
The team has also investigated the remains of two early 20th Century steam drifters on the beaches of Lewis and near Applecross.
A cannon that is a feature on the main street of Shieldaig, and mistakenly thought to be from the Spanish Armada, was confirmed as a Napoleonic weapon.
The remains of two World War Two flying boats were also recorded on the seabed near Oban.
This year, the project team plans to work with communities around Oban and the Inner Hebrides.
But it also hopes the public will report any previously-unrecorded marine archaeological sites from other parts of Scotland, particularly on the west coast.
Samphire project leader John McCarthy, of WA Coastal and Marine, said: "Using local knowledge to inform our investigations was a thoroughly rewarding experience.
"We have been invited into people's homes, boats and businesses all over the west coast of Scotland.
"We have been amazed and delighted by some of the material reported to us and the depth of knowledge held in these communities."