New world record for longest echo set near Invergordon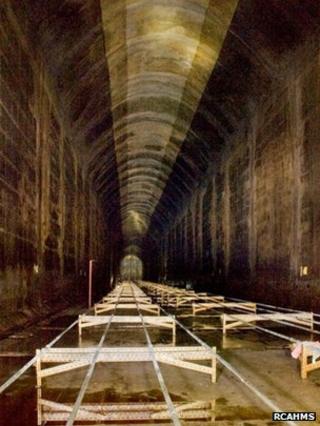 A new world record for the longest echo in a man-made structure has been set in an underground fuel depot constructed in Scotland before World War Two.
Salford University acoustic engineer Prof Trevor Cox recorded a shot fired from a pistol loaded with blanks inside Inchindown tunnels near Invergordon.
The time for the reverberation to end was 112 seconds.
That beat the 1970 Guinness World Records time of 15 seconds set in Hamilton Mausoleum in Lanarkshire.
Allan Kilpatrick, of the Royal Commission on the Ancient and Historical Monuments of Scotland (RCAHMS) and an expert on Inchindown, fired the pistol, loaded with blanks, about a third of the way into one of the storage tanks.
Prof Cox recorded the response picked up by the microphones about a third of the way from the far end.
He said he was amazed by the acoustics inside the tunnels.
"Never before had I heard such a rush of echoes and reverberation," he said.
The acoustic engineer said this was a standard technique used in concert hall acoustics.
"My initial reaction was disbelief," he said. "The reverberation times were just too long."
Mr Kilpatrick led the first public tour of the tunnels in 2009. Some of them are about twice the length of a football pitch, 9m wide (29.6ft) and 13.5m (44ft) high.
Hidden inside Kinrive Hill on private land, the site is only accessible through organised tours.
The oil storage tanks were dug into the rocky hillside to conceal and protect them from enemy attack.
Inchindown was constructed amid British military concerns about the strengthening of Germany's armed forces during the 1930s.
Falklands War
Work started on the depot in 1938 and in the early stages of construction many of the workers were local men with experience of building hydro-electric schemes.
The scale of the project was immense, the largest single construction in the Highlands since the Caledonian Canal, and the largest underground excavation until the Ben Cruachan pump storage hydro scheme in Argyll in the 1960s.
Nearby Invergordon was a key Royal Navy anchorage before and during the world wars.
Inchindown was completed in 1941. Its six tanks could hold 32 million gallons of fuel.
They were reportedly at full capacity during the Falklands War in 1982.
After that conflict, the depot was run down and later underwent decommissioning after plans to upgrade the site were dropped.