Scottish MoD sites 'may interest Bollywood'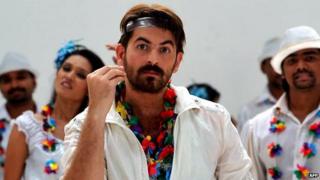 Indian film-makers could be interested in using military sites in Scotland, a Ministry of Defence contractor has suggested.
Landmarc, which manages land on the MoD's behalf, has revamped a website promoting bunkers, air stations and camps as movie and TV as locations.
Of the 60 sites, 16 are in Scotland and include training areas at Kirkcudbright, Tain and Barry Buddon.
Landmarc's Tony Burlton said some may appeal to Bollywood.
RAF Lossiemouth in Moray, Garelochhead in Dunbartonshire, Balmacara House in Kyle of Lochalsh and a mountain lodge near Kinlochleven are among the other sites in Scotland.
Most are actively used by the armed forces.
Land at Cape Wrath in the far north is used for warship live firing exercises, while a range at Tain provides a training area for fast jets and attack helicopters.
Productions have been able to use military sites for years, but there has been a renewed effort - encouraged by the Treasury - to highlight their potential.
Mr Burlton, filming and events manager for Landmarc, told BBC Scotland: "The sites are incredibly varied.
"There are runways, radar installations, lighthouses, grand houses and bunkers.
"In Scotland, the RAF has huge hangars, control towers and fantastic mountainous scenery perfect for a Bollywood-type production."
Switzerland used to be a favourite location for Bollywood film-makers, but in more recent years the movies have shot in New Zealand and Scotland.
In 2009, Indian art house thriller Three: Love, Lies, Betrayal was shot in Inverness and around Loch Ness.
Creative Scotland has been highlighting the renewed effort by Landmarc to bring mothballed and active MoD sites to the attention of film and TV location scouts.
Fees for use of the sites are negotiated and can range from £3,000-a-day for a major feature film to £1,500 for a television production.
Anna Karenina, 2012's screen adaption of Leo Tolstoy's novel of the same name, is among recent movies to use an MoD location.
Upcoming feature The Man from UNCLE, starring Superman actor Henry Cavill and directed by Guy Ritchie, has also filmed on a military site.
In the past, BBC productions Doctor Who and Top Gear have also been shot on MoD land.
Top Gear filmed a chase involving a Range Rover and a Challenger battle tank.