Hopes fade for Northern Lights displays over Scotland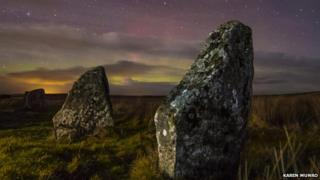 Hopes for powerful displays of the aurora borealis over Scotland have faded.
Space weather forecaster said a coronal mass ejection (CME) from the Sun hit Earth's magnetic field as predicted, but was weaker than expected.
Activity on the Earth's nearest star can cause spectacular displays of the Northern Lights.
It was expected a CME observed on Tuesday would result in aurora visible from Scotland on Thursday and Friday.
But the British Geological Survey has tweeted: "Next 24 hours quiet. The CME impact last night was weaker than expected, so no significant activity."
Spaceweather.com said that, as predicted, a CME hit Earth's magnetic field on Thursday at 20:00.
It added: "The impact was weaker than expected, however, and it failed to produce widespread geomagnetic storms.
"Nevertheless, some beautiful auroras appeared around the Arctic Circle."
Karen Munro and fellow members of Caithness Astronomy Group captured images of the Northern Lights earlier this week.
She checked for displays on Thursday night, but said: "I am afraid there wasn't even a hint of green all night from Caithness."