Jessica Chastain takes on Brave's Merida for US magazine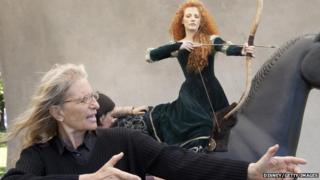 US actress Jessica Chastain has portrayed fictional Scottish princess Merida from 2012's animated movie Brave for a magazine photo shoot.
Chastain, star of Zero Dark Thirty, The Help and Mama, posed for award-winning photographer Annie Leibovitz.
The image will appear in February's issue of O - The Oprah Magazine.
Merida was voiced by Scots actress Kelly MacDonald and VisitScotland spent £7m on a joint marketing campaign with Disney linked to the film's release.
The tourism body estimates that over the next 10 years Brave will generate more than £140m in business for Scotland.
Made by Disney-Pixar, the film is a fairytale featuring a fictional Scottish royal family, bears and a witch.
Merida, a young, flame haired Scottish princess, refuses to conform with traditional rules on marriage and princess-like behaviour.
Disney-Pixar has described it as a story about mothers and daughters and families.
Scots actors and comedians voiced the main characters. As well as Macdonald, Billy Connolly, Kevin McKidd, Robbie Coltrane and Craig Ferguson were in the cast.
Writer and director Brenda Chapman came up with the story. It was directed by Mark Andrews, whose ancestors came from Torridon in Wester Ross.
The shoot for O Magazine was done at Cold Spring, New York.