Fishing documentary Kiss the Water to go on general release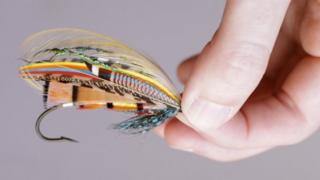 A documentary on the life and work of a world-renowned maker of fishing flies goes on general release later this week.
Megan Boyd's creations were sought after by anglers in the UK and America.
They were also used by the Duke of Rothesay, a regular visitor to Sutherland where Ms Boyd lived most of her life in a small cottage near Brora.
US director Eric Steel decided to make the documentary after reading an obituary following her death in 2001.
Called Kiss the Water, its release in UK cinemas from 10 January comes ahead of the start of the new fly fishing season in Scotland.
During January and February, the documentary will also be shown at venues in Helmsdale, Dundee, Glasgow, Inverness, Lerwick, Edinburgh and Bettyhill.
The film was given premieres at last year's Edinburgh and Tribeca film festivals.
Kiss the Water features hand-painted animation by British director and animator Em Cooper.
While Ms Boyd crafted for up to 16 hours a day at her creations, she refused to go fishing, telling friends that she would not be able to bring herself to kill a salmon.
Failing eyesight eventually forced her to retire when she was 70 and she moved into a nursing home. Prince Charles was among her visitors at the home.
Ms Boyd died in Golspie in Sutherland in November 2001 at the age of 86.
Steel, who was a producer on films such as Angela's Ashes, Bringing Out the Dead, Shaft and Julia & Julia, became fascinated by her story after reading an obituary in the New York Times.
His debut documentary, The Bridge, explored suicides at San Francisco's Golden Gate Bridge. It was filmed during 2004 and released two years later.