Salmon catches declined in 2013 says Spey Fishery Board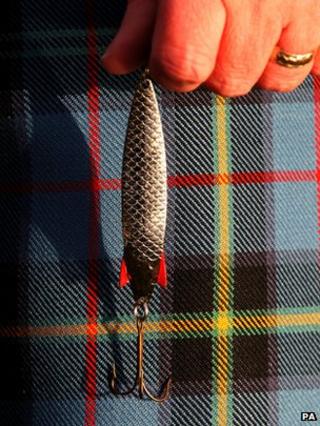 Last year was one of the most challenging in recent times for anglers on some of Scotland's rivers, according to Spey Fishery Board.
Salmon catches on the Spey in 2013 numbered 5,780 against a 10-year average of 9,000 fish.
The board's director Roger Knight said fewer catches were made on rivers across Scotland.
He said low water levels as a result of long spells of dry weather in the summer was among the causes.
The River Spey is the seventh largest river in Britain.
It emerges from Loch Spey in the Monadhliath Mountains in the Highlands and flows into the Moray Firth at Spey Bay on Scotland's north east coast.
Spey Fishery Board said it was regarded as a classic Scottish salmon fishing river.
Mr Knight told BBC Radio Scotland: "2013 proved to be a particularly challenging one for anglers and that was reflected in our catches.
"That situation was not peculiar to just the River Spey. It was a pattern that was reflected across many rivers across Scotland throughout last year."
Mr Knight said a cold winter followed by a dry summer caused water levels to fall.
He said another problem on the Spey was that "significant volumes" of water were diverted for hydro electric schemes.
Warming sea temperatures had also affected food sources for salmon on their migration routes and feeding grounds, Mr Knight said.
However, he added that fishing had improved following previous years of low catches such as 1976 when there was a severe drought.
In 2006 and 2008 about 11,500 salmon were caught on the Spey.