Exchange rate challenge to Harris Tweed sales in Japan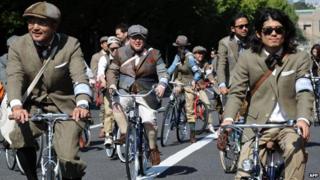 A sharp decline in the value of the yen could challenge sales of Harris Tweed in Japan, the largest international importer of the cloth.
Harris Tweed Hebrides, a company which accounts for about 90% of all production of the cloth, said the exchange rate had "moved against" it.
Chairman Brian Wilson said the situation was a reminder of the need for the industry to always diversify.
Over the last 12 months, the firm's total orders for tweed rose by 25%.
It said this provided it with "very strong" platform for 2014.
For more than 50 years North America was the biggest export market for Harris Tweed, which is woven on the Western Isles.
Germany later overtook North America before in more recent times Japan became the key importer of the fabric.
Last October, Japanese enthusiasts took part in a mass cycle ride while wearing their tweed garments for the Tweed Run Tokyo.
The event was held as part of Japanese Fashion Week.
Mr Wilson said it was essential that Harris Tweed Hebrides sought to open up new markets while working with existing clients,
He added: "Japan is still our major market but the exchange rate has moved against us there.
"It does not seem to be having much impact at present but it is a reminder of why we always need to seek diversification of both markets and sectors for our product."