Housekeepers guilty of Craig Whyte thefts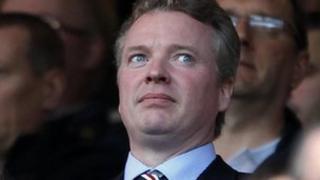 Two former housekeepers for ex-Rangers owner Craig Whyte have been convicted of stealing thousands of pounds worth of items from his Highland castle.
Jane Hagan, 51, and her husband Terence Horan, 54, denied taking the items from Castle Grant, near Grantown on Spey.
They were each fined £1,000 after a five-day trial.
But the sheriff criticised some of Mr Whyte's evidence, which he said included "matters which were perhaps open to question."
Inverness Sheriff Court was told Hagan and Horan had taken expensive jewellery, pens, a quad bike, clay pigeon trap, furniture and other goods and stored them in a container and a barn.
A letter containing an alleged confession by the couple, as well as potentially-embarrassing revelations about Mr Whyte, had to be read out by the former Rangers owner during the trial.
Sheriff Jamie Gilchrist questioned the circumstances surrounding the letter's recovery by Whyte and his girlfriend from the couple's computer, and said: "It would be difficult to be satisfied that the letter had not been altered."
'Breach of trust'
However, Mr Whyte's estranged wife Kim and her friend Linda Cameron gave evidence that they had heard Hagan and Horan saying they intended to take items of high value from Castle Grant because they had not been paid.
This, the sheriff said, provided strong support of Mr Whyte's testimony that he had not given the pair an instruction to store items on his behalf in a container they rented to prevent Sheriff's Officers or his wife from seizing them.
He added: "Linda Cameron, in particular, did not come across as the sort of person to collude with both sides in an acrimonious marriage break-up in a conspiracy to falsely accuse Hagan and Horan of theft.
"Concerns the couple had regarding Craig Whyte's unreliability in paying bills, and concerns they had about payment of salaries and their future, generally provides a clear motive to them to remove property from the Castle."
The sheriff said he had some sympathy for the couple, whose future working for landed gentry is now likely to be in doubt.
He told them: "I recognise the circumstances in which these events took place and they provide an explanation and some mitigation. I also recognise the consequences a conviction of dishonesty and breach of trust will have on people in your line of work."
In their evidence to the court, the couple had described what life was like working for the controversial businessman.
Among their claims were salaries being paid late, and that Whyte had failed to pay tax and national insurance or provided statutory employment contracts and pay slips.