Santa maybe: Scientist plots best St Nick sledging sites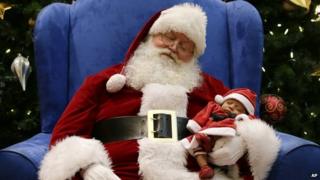 A scientist has looked at where the best snow cover will be for Santa and his reindeer - to help explain changes in winter climate.
Dr Eddie Graham, a lecturer and meteorologist at the University of the Highlands and Islands (UHI), said days per year with cover were decreasing.
He said it would mean Father Christmas would have to fly his sleigh more often than "glide it along snow".
Dr Graham said snow may fall on high ground in Scotland on Christmas Day.
The meteorologist examined data gathered by scientists in Canada and the US, Rutgers University in New Jersey and also the space agency Nasa and National Oceanic and Atmospheric Administration (NOAA).
The information suggests that most of Canada and Russia experience white Christmases every year, and the best places for sliding a sleigh.
However, Dr Graham said recently-published findings by North American researchers suggested the number of days per year with snow cover had been decreasing gradually across the Northern Hemisphere over the past 40 years.
He said the situation in Scotland was "complicated", with changes in how meteorologists measure snow being a factor.
Dr Graham said that what was clear was that the climate of Scotland had warmed by about 0.5C over the last 40 years.
But he added: "This overall decrease in snow cover, however, has not been replicated during the month of December - an anomaly that bucks the trend of decreasing snow cover in most other months.
"Indeed, it appears that December has even become slightly more snowy over the past 40 years across Scotland and Europe as a whole - we only need to recall the very snowy Decembers of 2009 and 2010 to confirm this."
On the chances of snow over Scotland on 25 December, Dr Graham said: "There is an increasing chance of colder weather by Christmas Day, with occasional sleety flurries.
"However, most of any snow will be on high ground, away from the main population centres of the country.
"On the mountain tops, some heavy falls of snow are possible."