Highland Wildlife Park's Amur tiger Marty gets root canal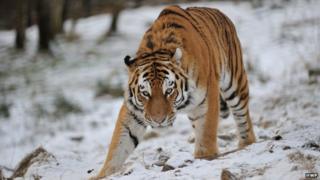 An adult male Amur tiger at the Highland Wildlife Park has had root canal done to a damaged tooth.
Taking more than two hours to complete, the operation involved three veterinary staff, two animal dentists and a dental x-ray technician.
The tiger, called Marty, was anaesthetised for the dental work to a chipped lower right canine.
Staff at the park near Kincraig said the damage could have led to serious health problems if not treated.
After being anaesthetised, Marty's tooth was examined by veterinary dental surgeon Norman Johnston.
Mr Johnston flushed out the decayed pulp and filled the cavity with a cement-like substance, which will reinforce the now hollow tooth.
Similar to human dental fillings, park staff hope the procedure will mean that the tooth will not need to be extracted in the future.
'Complex affair'
Douglas Richardson, head of living collections at the site, said: "A problem for big carnivores like tigers and polar bears, the pulp layer of the tooth is only a couple of millimetres below the tip of the tooth, so even chipping a tiny bit of tooth off can cause problems as the pulp underneath is exposed and infection can set in.
"Although normally a straightforward operation, performing any sort of medical procedure on an animal the size of Marty is a complex affair, requiring a lot of planning and coordination."
He added: "The team were exceptional, working together to ensure the procedure went as smoothly as possible and I am very happy with the outcome."
Last year, a team of vets spent three hours doing root canal on one of the park's two polar bears, Arktos, who weighs 75 stones (477 kg).
Arktos shares an enclosure with Walker, also a male bear. Walker required dental treatment in 2011.