Rare war-time 'disappearing pillbox' found at Evanton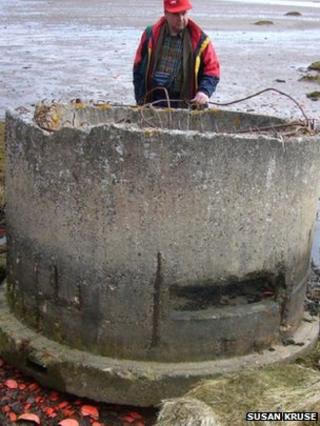 A rare example of a type of World War II pillbox that could "disappear" has been found at a former military airfield in the Highlands.
The Pickett-Hamilton fort was part of the defences at Evanton in Ross-shire, but after the war was dumped on the nearby shoreline.
The cylindrical pillbox could be raised and lowered from the ground.
It was designed to launch surprise counter attacks against enemy paratroopers.
When lowered, the fort was flush with the ground so that it did not affect the landing and take off of aircraft from the runways they defended.
Prime Minister Winston Churchill took an interest in the development of the innovative machinegun posts.
New Kent Construction Company of Ashford, which submitted the designs and went on to manufacture the forts, described the defences as a "disappearing pillbox".
But, according to airfield archaeologist Paul Francis, just 335 were installed in the UK because they were too small to accommodate new weapons.
The damaged Ross-shire fort had been unrecorded by modern day archaeologists and historians.
However, it has now been documented by the Evanton Wartime Remains project, which has gathered information on more than 160 military sites at the Highland airfield and the surrounding area.
The project drew on the recollections of local people, scoured military maps and archives and also used online aerial images to glean information on the sites and surviving structures.
Archaeology for Communities in the Highlands (Arch), Inverness Young Archaeologists Club and pupils from Kiltearn Primary and Dingwall Academy have been involved.
The project team described the Pickett-Hamilton pillbox as "rare".
A spokesperson said: "Unexpected finds include three unrecorded pillboxes, including a Pickett-Hamilton fort which could be raised and lowered, and a Norcon pillbox, said by one commentator to be possibly the most dangerous, cheap and nasty of all the pillbox designs."
The entrance hatch, remains of hand holds inside and pipes for hand-operated equipment survive on the Pickett-Hamilton pillbox.
Tangmere Military Aviation Museum, near Chichester in West Sussex, has one of the few examples of a complete fort.
The museum said racing driver Donald Campbell, who died on Coniston Water in 1967 during a water speed record bid, offered his workshops for the construction of the prototypes.
Campbell also watched trials of the fort at Andover airfield in 1940.