Energy regulator Ofgem delays grid charges overhaul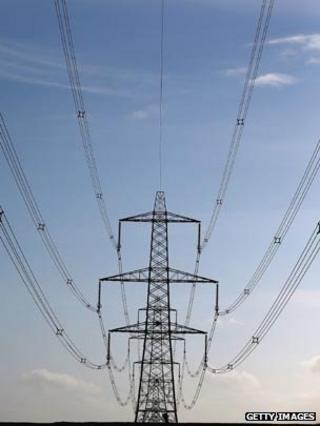 Delays have hit plans to reduce transmission charges for renewable schemes in parts of Scotland.
Ofgem had expected to make a decision on Project TransmiT this week, but has pushed the date back to March 2014.
That in turn has delayed the proposed introduction of lower costs from April 2014 to April 2015.
The move gives energy companies more time to prepare for the proposed overhaul, but Friends of the Earth said the situation was "frustrating".
Scottish Enterprise Minister Fergus Ewing said he was "extremely disappointed" by the delays.
Ofgem announced plans in August to cut the charges per unit of electricity for firms generating power in the north of Scotland.
Charges for putting power into the grid in that area are currently high.
They have been seen as a barrier to renewable energy investment.
Charges for Scottish islands had been left out of its previous plans.
However, Ofgem proposed that they should fall too - although not to the same level as the mainland because of the cost of the subsea links needed to transmit electricity from the isles to the mainland.
Ofgem's indicative modelling suggested that mainland network charges for wind generation in the north of Scotland would reduce by about 50%, from £25/kW to £12.21.
Transmission charges for generators and suppliers are set by National Grid, using a formula approved by the regulator.
'Helpful proposals'
Following August's announcement, Ofgem consulted on the proposal.
It was because of some of the responses received that Ofgem decided to delay the final decision.
A key concern was that implementing the new charges before companies were ready to make the changes they would need to make would lead to cost increases for consumers.
In a statement, Ofgem said: "April 2014 implementation could lead to suppliers including greater risk premia in their fixed tariff offers to consumers if they are not given sufficient lead time ahead of significant changes.
"This could increase costs to consumers."
Friends of the Earth Scotland said Ofgem had produced "helpful proposals" to aid renewables.
Director Dr Richard Dixon said: "This is a further frustration for renewables on the key issue of transmission charges."
Mr Ewing said the delays were "unacceptable".
He said: "I am extremely disappointed in Ofgem's announcement of a further year's delay in introducing measures to the tackle the long term discrimination against Scottish electricity generators.
"After three years of exhaustive examination of electricity transmission charging and associated connection arrangements, Scottish generators are facing a further three months of uncertainty - and further 12 months before any new arrangements take effect - while the benefits for consumers risk being delayed."
Labour's Shadow Energy Minister Tom Greatrex said: "Project TransmiT uses an evidence-based approach to ensure that the costs of transmission are fairly distributed and it is frustrating that these reforms will now be one year late."