Scottish government approves £800m Lochaber hydro scheme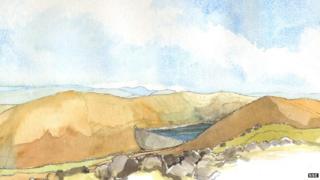 The Scottish government has given its backing to a proposed new £800m hydro-electric scheme in Lochaber.
SSE plans to construct the 600MW project at Coire Glas, near Spean Bridge if the investment goes ahead.
The development would be Scotland's biggest ever pumped storage scheme but objectors warn it could damage tourism.
The John Muir Trust (JMT) objected to the planning application and has concerns that the project would have a "severe impact" on the landscape.
Scottish Natural Heritage had also said it would have a major negative impact on the local landscape and views would be significantly affected.
The pump storage hydro scheme is designed to "soak up" excess power generated by wind and wave farms, using it to pump water up to a reservoir.
That water is then released through tunnels to generate hydro electric power at times when consumers need it.
Those in favour of such schemes describe them as "green batteries", but opponents argue they use more energy than they produce.
SSE's Foyers hydro scheme on Loch Ness and ScottishPower's Cruachan project in Argyll both have a pumped storage element to them, but smaller than what has been proposed for Coire Glas.
Foyer's is 300MW and Cruachan is 440MW.
If SSE decides to invest in Coire Glas construction would take five to six years from 2015 and create about 150 jobs.
It would involve the construction of a dam, reservoir, underground power station and water tunnels in the hills above Loch Lochy.
Jim Smith, managing director of SSE Renewables, said that, while the government's consent was "very positive", other challenges remained.
He said: "SSE is now keen to engage further with both the UK and Scottish governments, as well as other relevant organisations, to develop an appropriate solution to the commercial challenges that could enable what would be an important asset for the UK energy system to progress."
'Gold rush'
Energy Minister Fergus Ewing granted the planning consent for the Coire Glas.
He said: "This development will bring many benefits to local trades being involved at various stages throughout the project.
"There will also be some indirect jobs resulting from the supply of goods, materials and services for construction."
Mr Ewing added: "With a huge 600MW generating capacity, this scheme will be by far the most powerful of its kind in Scotland. Whilst generating it will have the potential to provide up to 10% of Scotland's estimated peak electricity demand."
Scottish Renewables, an organisation representing the interests of energy developers, has welcomed the government's decision.
Senior policy manager Joss Blamire said: "This hydro scheme will act like a battery storing electricity for when it's needed most."
Helen McDade, head of policy at JMT, said the it had raised an objection on landscape grounds.
However, she added that experts had also advised the trust that pumped storage was an expensive option and the construction of conventional hydro schemes was being ignored.
JMT, a landscape conservation charity, has been calling on the Scottish and UK governments to have a "coherent" strategy on renewable projects, and not give consent on an "ad hoc" basis.
Ms McDade said: "It is a gold rush. There is so much money in renewables and energy companies are throwing up renewables as fast as possible."