Cold spring causes a decline in corncrake numbers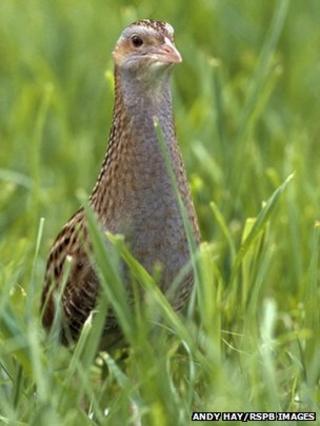 Numbers of one of Scotland's rarest birds, the corncrake, have dramatically declined, according to RSPB Scotland.
The charity said the number of male birds counted had decreased by 23% from 1,260 in 2012 to 971 in 2013.
It said the cold spring had halted the growth of tall grasses which were essential to the species' habitat and for breeding.
RSPB Scotland said the birds had been recovering in numbers following decades of decline.
It has called on the Scottish government to commit millions of pounds from the new Scotland Rural Development Programme towards farming schemes that could help to protect the birds.
The government is consulting on how it plans to spend the programme funds, which total more than £1.3bn.
Head of land use policy at RSPB Scotland, Vicki Swales, said corncrakes were one of Scotland's conservation success stories.
She said: "The species has been brought back from near extinction thanks to the work of farmers, crofters and conservationists and those all important agri-environment schemes.
"It is vital that we continue this success story and help corncrakes to bounce back after difficult breeding seasons."
She added: "Making sure there are good nesting sites and plentiful food for adults and chicks within the farmed landscape will give the Scottish corncrake the best possible chance of long-term survival."
The Scottish government said it had sought to find a balance in the programme's budget, which is funded by through Europe's Common Agricultural Policy.
A spokesman said: "The Scottish government's proposals would see funding for agri-environment schemes increase by more than £10m per year to over £350m over the seven year CAP period - around a 30% increase."
He added: "We encourage the industry, environmental organisations and rural communities to respond to our consultation on flexibility, which closes 16 December, to help us shape how the new CAP will look in Scotland."