Scotland-based Global Energy Group reports sales growth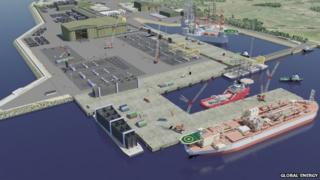 Global Energy Group, the offshore engineering company, reported sales growth last year of 43%.
Based in Inverness and Aberdeen, with a large operation at Nigg fabrication yard in Easter Ross, it saw sales in the year to March of £348m.
In addition, the firm's pre-tax profits were up from £12.7m to £27.6m.
Chief executive Iain MacGregor said he expected this to be the third year of growth at more than 40%.
That means Global Energy has seen sales so far this year of more than half a billion pounds.
Mr MacGregor said the firm had seen growth in both its operations and maintenance division and in its "projects".
The strengthening market for North Sea activity had boosted the projects group, while a dry dock facility had increased capacity at Nigg.
The firm also acquired Ross-Shire Engineering and Prime Pumps, helping growth into onshore utilities and power company markets.
The purchase of A&B Welding helped expand North Sea activity in steel replacement on ageing infrastructure.
'Higher profits'
Global Energy also bought Australian firm Vertech, which gave it a foothold in inspection of oil and gas equipment in the Asia-Pacific region.
With business also in the US Gulf of Mexico, Mr MacGregor said: "International sales grew by 142% last year, which reflected our strategy to enter other mature markets.
"The effect of this has been positive in sales growth, but more specifically felt in higher profit returns.
"We have learned many lessons from growing a UK portfolio and have adapted our approach to developing international locations".
Mr MacGregor said he expected a third year of 40%-plus growth since the group was already trading at the £500m level this year.
He added that acquisition would now be focused on operations and maintenance, particularly in international markets. The priority is in the southern USA, Norway and further growth in Australia.
Global Energy Group was set up in 2005 and employs more than 4,500 people.
Most of it is owned by chairman Roy MacGregor and his family, and last year, Mitsui & Co, the Japanese engineering firm, took a 25% stake.