Inverness West Link: Sportscotland criticises route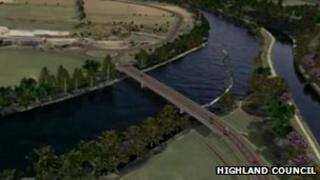 Sportscotland has criticised Highland Council for the "lack of clarity" over its plans to relocate sports facilities affected by the West Link road.
The national agency said the route of the proposed new road in Inverness would impact on a golf course, rugby pitches and rowing club.
It said the local authority needed to provide detailed information on replacement facilities planned.
Highland Council said it recognised the needs of local sports clubs.
Sportscotland said the road would cut across part of Torvean Golf Course and "have a substantial impact" on the facility.
It also said the council "has failed to understand and assess" the effect that a planned new bridge over the Caledonian Canal would have on rowing.
Highland Council said it was considering responses to the West Link planning application, including those made by Inverness Rowing Club and the Scottish Sports Council.
A spokesman said: "We recognise the importance of all sporting clubs to the Highlands and will continue to discuss mitigation measures as to how the impact of West Link on the clubs can be minimised or resolved."
He said the road would not affect the club's existing boat shed and there was room for its expansion.
The planned new road is needed for easing travel across Inverness and to free up congested city centre streets, according to the local authority.
It could cost up to £34m to construct. Building work is expected to begin in 2015.