Sheep costume fire man Jamie Mackintosh freed on appeal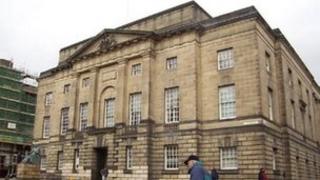 A student who was detained after turning his friend into a fireball when he lit his fancy dress sheep costume has been freed by appeal court judges.
Trainee chef Laurie Meddle, 18, needed extensive skin grafts following the incident at a village hall in Ross-shire on 17 November last year.
Appeal court judges in Edinburgh agreed that the 18-month sentence given to Jamie Mackintosh, 18, was too severe.
He was given a community payback order and ordered to pay £1,000 compensation.
The court heard that Mr Meddle, who has been left with scars to his legs, back and upper arms had forgiven Mackintosh and they were still friends.
Mackintosh - who was four weeks into a computing and electronic engineering course at Glasgow Caledonian University - admitted culpable and reckless conduct at Dingwall Sheriff Court.
The court heard how he put his lighter to the cotton wool stuck to his friend's tee shirt after another youth joked: "Laurie will be easy to set on fire."
Sheriff Andrew Miller said that because of the "flagrant nature" of Mackintosh's conduct and the serious consequences for Mr Meddle custody was unavoidable.
At the Court of Criminal Appeal in Edinburgh, solicitor advocate Ann Ogg told judges that Sheriff Miller's sentence was too severe for a first offender who had clearly been acting out of character.
Lady Smith, sitting with Lord McEwan, agreed and ordered Mackintosh, from Strathpeffer, to carry out 250 hours of unpaid work and pay compensation to the victim instead.
She noted that Mackintosh had already served the equivalent of a three-month sentence in Polmont Young Offenders' Institution.
Been forgiven
Lady Smith told him: "There is no doubt that the consequences of the culpable and reckless conduct were horrific. The burn injuries caused were extremely serious and the lasting effects will no doubt remain with Mr Meddle for the rest of his life.
"A few moments of avoidable stupidity have changed his life and not for the better."
But, the judges ruled, Sheriff Miller had paid too much attention to the consequences for Mr Meddle and not enough to the nature of Mackintosh's actions.
Prosecutors at the Dingwall hearing had accepted it was "thoughtless" and a prank and Mackintosh had no idea of what the consequences of his action might be.
Ms Ogg told the judges that when Sheriff Miller passed sentence in October he did not know that Mr Meddle had forgiven his friend.
The lawyer said that while in Polmont, teachers at Dingwall Academy had written to Mackintosh to offer their support and said they were proud to have him as a former pupil.
The incident happened at a Halloween party at Contin Village hall, attended by about 70 pupils and former pupils of the school.
Cotton wool
At the end of the night Mr Meddle and a friend were standing outside the hall when another youth made a joke about setting Laurie on fire and held a cigarette lighter to the cotton wool on Mr Meddle's stomach.
Although it caught fire, briefly, it was easily brushed out, only singeing the costume.
Mackintosh did the same to Mr Meddle's back with the same result, to begin with.
But after two or three attempts the whole costume began to burn fiercely.
Others at the party threw water on Mr Meddle and ripped off the burning T-shirt before he was taken by car to Raigmore Hospital in Inverness - about 15 miles away.
Doctors there found burns of different severity covered almost 40% of Mr Meddle's body.
He was transferred to a specialist burns unit at Livingston, West Lothian, and spent more than four weeks in hospital.