New site dedicated to Scottish soils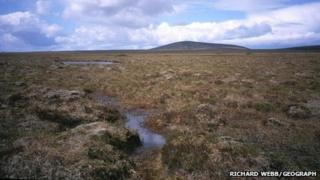 A new online resource has been launched in an effort to give Scotland's soils better protection.
The Scottish government said the website aimed to provide reliable and scientifically accurate information on soils, such as peat.
The site has been created with the aid of Forestry Commission Scotland, James Hutton Institute and other bodies.
Two years ago, The State of Scotland's Soils, warned that climate change and housing threatened the natural asset.
More than 50% of the UK's natural soil carbon is stored below ground in Scotland, according to the report.
Environment Minister Paul Weelhouse said: "It is impossible to overstate the importance of soil as a natural asset to our health and wellbeing, given entire ecosystems depend on it and it is a key determinant of the success of our food and drink sector and a crucial sink for damaging greenhouse gases.
"It is vital we do all we can to manage and protect it."
He added: "With this in mind, the Scottish government commissioned and funded the creation of the Scotland's Soils website."