Conservation concerns for extinct wolves in Scotland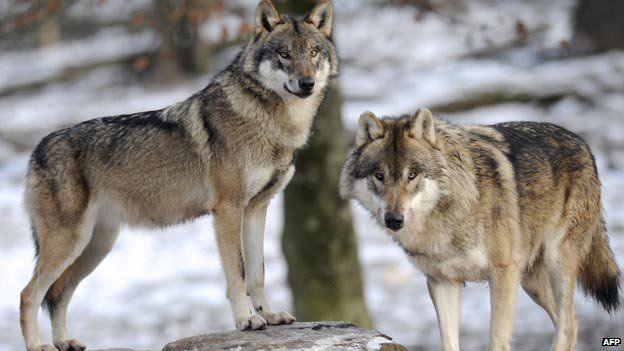 Wolves continue to feature on a list of Scottish wildlife that people have concerns about in terms of conservation.
The wolf was hunted to extinction in Scotland in the 1700s with some of the last killed in Sutherland and Moray.
But a small number of respondents to the Scottish Nature Omnibus Survey mention the mammal when asked what wildlife they were most worried about.
Deer, red squirrel and Scottish wildcat top the list.
Commissioned by Scottish Natural Heritage, the survey is held on a regular basis to gauge public awareness of Scotland's natural world, and the efforts to protect and manage it.
Wolves have featured in the survey since 2011. Just 1% of respondents mentioned the predator in the latest survey.
However, people did rate it ahead of creatures that do inhabit Scotland and have conservation issues, such as puffins, voles, red kites and ptarmigan.
Wolves were driven to extinction by persecution and hunting. Chieftains and royalty led some of the hunting parties.
One attended by Queen Mary in 1563 employed 2,000 Highlanders and ended in the deaths of five wolves and 360 deer.
Huge swathes of forest in Perthshire, Lochaber and Argyll were systematically destroyed to deprive wolves of their habitat.
The remains of a wolf trap have also been found at Moy, near Inverness, dating from between the 16th and 18th centuries.
Wolves were lured by bait onto a carefully weighted plank above a deep pit covered with brush wood.
Animals killed near Brora, in Sutherland, in 1700 and another at Findhorn, in Moray, in 1743 were among Scotland's last.
More recently there has been debate on the re-introduction of wolves to Scotland, including the Alladale Estate in Sutherland.
Deer top the survey's list while red squirrels are second and Scottish wildcats, a species in danger of becoming extinct, are third.
People said they were worried for deer because they were shot, hunted and culled.
Deer also head the survey's list of wildlife the survey's respondents most associated with Scotland.
SNH has been trying to control deer numbers for several years because of the damage they cause to habitats by their grazing.
The researchers noted that the results of the survey highlighted the challenge SNH has in getting the public to understand why deer are culled.
Other results of the survey suggest that people who live in large urban areas, young people and minority ethnic groups are the least likely to go out and "enjoy the outdoors".
Related Internet Links
The BBC is not responsible for the content of external sites.