Tornado anti-collision system suggested in 90s, says MP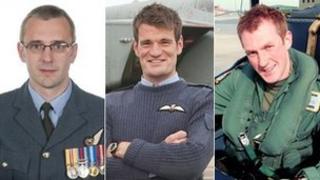 Equipment designed to help fast jet pilots avoid mid-air collisions was recommended in the late 1990s but has still to be installed, an MP has said.
Angus Robertson believes the absence of the kit on Tornado GR4s will be "an important consideration" for a forthcoming inquiry into a fatal crash.
Three airmen died when two Tornado crashed off the Caithness coast on 3 July 2012.
The Ministry of Defence said such incidents were "extremely rare".
Following a Freedom of Information request from Mr Robertson, the MoD and 1998 Strategic Defence and Security Review has confirmed the equipment was recommended in the late 1990s.
The information is in addition to details the Moray SNP MP made public last week.
In written answers to questions from Mr Robertson, the MoD confirmed that a warning system suitable for use on fast jets was identified in 2008.
A system with a total cost of £53.46m was approved for installation in October 2012 and a contract for the work required was awarded in December that year.
The first two jets to be fitted with the system were delivered to the RAF in August this year. The rollout of the equipment is due to be completed by December 2014.
Two Tornado GR4s flown out of RAF Lossiemouth in Moray crashed on 3 July 2012.
Bangor-born Flt Lt Hywel Poole, 28, Sqn Ldr Samuel Bailey, 36, from Nottingham, and Flt Lt Adam Sanders, 27, who grew up in Lancashire, died.
Sqd Ldr Paul Evans, from RAF Lossiemouth, survived but was badly injured.
The Military Aviation Authority has provided a report on last summer's incident to the procurator fiscal, and a fatal accident inquiry (FAI) is now expected to be held.
The board's report has not been made public.
'Whole truth'
Mr Robertson said: "We don't know whether such a system would definitely have stopped the collision above the Moray Firth in 2012 and saved lives, but this is certainly being considered in connection with a potential FAI.
"I believe that the families of the victims deserve the fullest answers and the whole truth.
"The MoD has a lot of questions to answer about why they do not appear to put the safety of service personnel first."
The MoD said there were measures already in place to minimise the risk of mid-air collision and such incidents were "extremely rare".
A spokesman said: "A specifically designed Tornado collision warning system, which will be another tool for pilots to use, is currently being trialled and will be in service next year.
"Our thoughts remain with the families of Sqn Ldr Sam Bailey, Flt Lt Hywel Poole and Flt Lt Adam Sanders.
"The results of the service inquiry into the accident are being considered by Scotland's procurator fiscal and therefore, it would be inappropriate to comment further on this case."