NTS fundraising to keep Battle of Culloden blunderbuss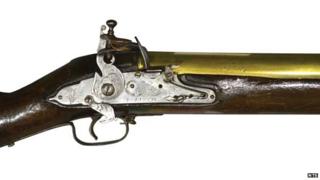 The National Trust for Scotland has appealed for help in raising £65,000 so it can buy a gun believed to have been taken as a trophy at Culloden.
The blunderbuss has been on loan to NTS and displayed at its Culloden Battlefield Visitor Centre since 1996.
The weapon's owner is selling it and given the trust first refusal.
An inscription on the gun reads: "Taken at the battle of Culloden 16 April 1746 by Captain John Goodenough with 18 balls in it".
Bonnie Prince Charlie's Jacobite force was defeated by a government army in the battle.
Capt Goodenough fought on the government side in Blakeney's 27th Foot Regiment.
NTS has launched a public appeal to raise the money it needs to purchase the blunderbuss.
Made in the 1670s by John Finch, a leading London firearms maker, the weapon is a rare survivor of its type, according to NTS.
It is a muzzle-loading firearm with a flintlock mechanism and dog lock.
The trust said: "As one of only a small group of objects taken from the battlefield, the blunderbuss has powerful associations and provides a tangible link to the past.
"It is an item of national interest and key element of the collection at Culloden."