SNH concerns over SSE's Strathy South wind farm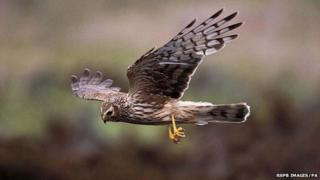 Scottish Natural Heritage (SNH) has reaffirmed its objection to a proposed 47-turbine wind farm in Sutherland.
Energy giant SSE's Strathy South scheme is proposed for a site in the Flow Country - a vast expanse of peatland.
SNH has concerns about its potential impact on birds such as hen harriers, waders and divers.
SSE has said it consulted on the scheme with SNH and RSPB Scotland, which called the project "one of the most worrying it has ever seen".
Public body SNH has given advice to the Scottish government on the proposal since 2007.
It has asked for seven turbines to be removed from plan due to what it said were likely impacts on black throated divers and wood sandpipers.
SNH has also asked SSE for more information on how internationally important blanket bog habitat and bird species will be protected.
Dave Mackay, SNH's area operations manager said: "Renewable energy can help tackle the effects of climate change.
"Our role is to provide information and advice to help decision makers balance the needs of the industry with those of nature and landscape, and get the right developments in the right places.
"In light of the potential negative impacts on both habitats and species of international importance, we are maintaining our objection."
Last month, RSPB Scotland raised its concerns.
It wants the site, a plantation of non-native conifer tree, to be restored to peatbog.
SSE said it recognised the importance of the habitat and that its project would involve restoring degraded peat.
A spokesperson said: "We propose the removal of over 1,000 hectares of inappropriate plantation forestry which is the main threat to the integrity of the surrounding peatland.
"By contrast, the wind farm will have an impact on less than 100 hectares which will lead to substantial environmental gain overall."
The power company was given consent for 33 turbines at Strathy North in 2011.
It applied to the Scottish government in 2007 for permission for 77 turbines at Strathy South, but has since reduced the size of the scheme.