New call for fair Scottish delivery charges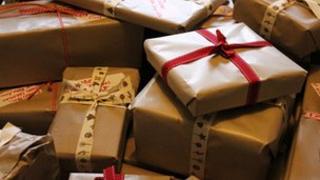 Retailers are being encouraged to offer fair delivery charges to customers living in remote and rural parts of Scotland in the run up to Christmas.
The Scottish government has launched a set of best practice principles it hopes companies will follow.
The guidelines recommend transparency in how charges are worked out.
Firms have also been asked to offer alternative arrangements for collecting parcels for customers who cannot get the items delivered to their homes.
The best practice principles follow the setting up of the Parcel Delivery Working Group earlier this year.
Enterprise Minister Fergus Ewing said the guidelines were being published to coincide with the busiest time of the year for parcel delivery operators.
He said: "We would encourage retailers to take on board these guidelines and in turn customers, particularly in the Highlands and Islands, will receive a fairer service.
"The guidelines reinforce the message that delivery pricing policies should not discriminate against customers on the basis of their location."
A "parcel summit" was held in Inverness last November to discuss ways of improving delivery services.
The talks, involving retailers and delivery firms, followed research by Consumer Focus Scotland that suggested people living in Scotland paid high prices for poor services.
The summit looked at charges and whether delivery office and collection point opening hours needed to be changed.
The discussions were the first of their kind in Scotland, according to the government.