Darren Cooper faces jail for two Thurso assaults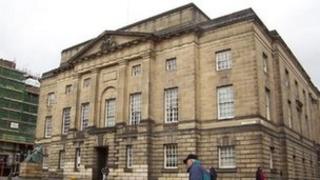 A man who carried out violent assaults two days after being released from prison has been told by a judge that he faces a lengthy jail sentence.
Darren Cooper, 28, of Thurso, attacked two men in the Caithness town on 7 October last year.
He struck one of his victims with a glass bowl, carving fork, chain and knife or similar objects and repeated punched and kicked him.
The other victim lost vision in an eye after being punched and kicked.
Cooper denied the assaults.
After a jury at the High Court in Edinburgh found him guilty of the charges, advocate depute Tony Lenahan revealed that Cooper had nine previous convictions for offences of violence.
'Catastrophic consequences'
Judge Michael O'Grady QC told Cooper: "You have been imprisoned four times and still continue your habit of violence.
"You have been convicted of two brutal assaults, one involving weapons and another which has had catastrophic consequences for a young, family man."
The judge said he was "disturbed" to note the criminal record of Cooper and told him a significant custodial sentence was now called for.
He deferred sentence on Cooper for the preparation of a background report including a risk assessment.
The trial heard that Jason McCann was struck with various objects during the assault on him.
It was also told that father-of-four Mark MacLeod had an operation on his damaged eye, but has lost vision from it.
Cooper denied assaulting Mr McCann to his severe injury and permanent disfigurement at a house in Lord Thurso Court.
He also denied attacking Mr MacLeod to his serious injury and permanent disfigurement and impairment at another property in Thurso's Bayview Terrace.