Seaside town Nairn needs tourism boost, suggests report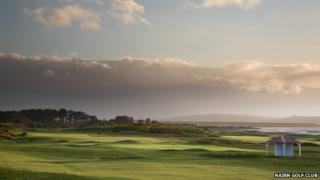 More could be done to boost tourism in a Highland seaside town that has been popular with movie stars of the past and present, according to a new report.
Nairn's frequent visitors have included Oscar winners Charlie Chaplin, the star of silent films, and Tilda Swinton.
In the report, Highland Council officers highlight golf tournaments and arts events that draw tourists today.
But they also note that the local authority could be even more pro-active in supporting such initiatives.
Tourism has long been important to Nairn's economy.
In the 1880s it became a seaside resort with visitors flooding in on the Victorian railway network.
Nairn's popularity with holidaymakers earned it the nickname the Brighton of the North.
It would later become a regular holiday destination for Chaplin. In more recent times, Swinton has staged film festivals in the town.
Nairn has two golf clubs, a book and arts festival and a jazz festival.
In the report, officers said council decisions on where capital investment goes could include consideration of how the funding would benefit tourism.
Nairn, Badenoch and Strathspey area committee will consider the paper next week.