Castletown protests against plan to open chemist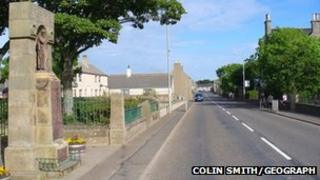 A community in Caithness is protesting against plans for its first pharmacy.
Glasgow-based Apple Pharmacy Group plans to open the outlet in Castletown, near Thurso.
Local GPs dispense as well as prescribe medicines and there are concerns that the viability of the practice will be harmed if the chemist goes ahead.
NHS Highland has said the doctors service would not be affected whatever the decision on Apple Pharmacy Group's application.
A small demonstration will be held outside a meeting between the company's boss Sanjay Majhu, GPs and community representatives.
Brenda Herrick, chairwoman of Castletown Community Council, said many households have also put 'No pharmacy' notices on windows of their homes.
She said the level of opposition should be obvious to Mr Majhu.
Ms Herrick said: "He must have got the message by now that he is not welcome, but I don't think he is going to give up easily."
Mr Majhu has told BBC Radio Scotland that he will not be bullied into dropping the proposals.
He said he was not surprised by the local reaction and that he "wholly understood" people's concerns.
Mr Majhu said: "I don't want to be bullied and I don't want to bully anybody.
"I think they think I am some crazy businessman coming up from Glasgow."
He added: "I wholly understand their concerns and that's why I am flying up to meet with the doctors and to meet up to 20 representatives from the community council."