Fewer dogs in capercaillie woods at Boat of Garten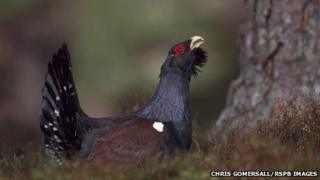 Fewer dogs are being taken into woodland that provides habitat for rare capercaillie, according to Scottish Natural Heritage (SNH).
Monitoring of the woods at Boat of Garten has revealed a 66% drop in dog walker visits this year compared to a previous survey in 2011.
More of the dogs that were being taken into the woodland were on leads or under close control.
The two-week survey was done using motion-triggered cameras.
Capercaillie are one of Scotland's rarest birds.
There numbers have been declining because of predators, habitat loss and disturbance by human activity during their breeding season.
SNH had asked visitors to the woods at Boat of Garten in the Cairngorms to modify their behaviour.