Walkers threatened by landowners, says MCofS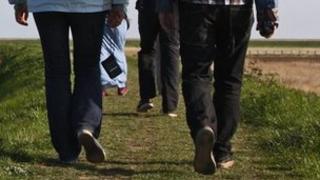 Walkers claim to have been threatened by landowners and their staff while on treks, the Mountaineering Council of Scotland (MCofS) has said.
It said it had heard reports people being "intimidated" while exercising their right to roam. It said such incidents should be reported to police.
People have a right of access to most land, rivers and lochs in Scotland, on condition they act responsibly.
The MCofS said the majority of landowners respected this law.
The areas involved in the cases of alleged intimidation have not been named.
MCofS access officer Andrea Partridge said: "If anyone feels they have been intimidated or threatened while exercising their statutory rights of access, they should report the incident immediately to the police by calling 101."
She said they should take a note of the time and location of the incident, the names of individuals if appropriate, and vehicle registration numbers.
'Heated exchanges'
Ramblers Scotland said Scotland's public access rights were world-renowned.
Campaigns and policy manager, Helen Todd, said: "Many walkers feel passionate about protecting their right to roam but they should nevertheless remain calm if faced with an aggressive land manager who is trying to prevent them walking on their land.
"Walkers can choose to continue on their route or take account of any reasonable advice on an alternative, but they should report any intimidation to the police in the first instance, and also to the Ramblers or MCofS."
Scottish Land and Estates, an organisation that promotes the work of farms and estates, said it was aware of few disagreements between landowners and those wishing to access land.
A spokeswoman said: "Very occasionally, heated exchanges can take place, this is more often than not triggered by a disturbance to a land management activity that, in all probability, a walker was not aware was happening.
"We continue to promote to landowners the importance of using effective signage and communicating via websites and notice boards to keep the public and communities informed and if necessary to have a friendly chat with anyone that might be about to disturb an activity."
She added: "It is important when the public are out and about in the countryside that they take account of other activity going on around them."