Demand for reuse of land at Dounreay in Caithness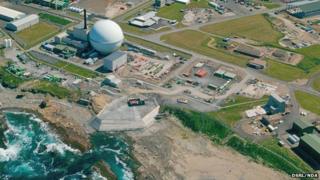 Highland Council expects large areas of Dounreay to be made available for new uses soon after work to decommission the nuclear power site is finished.
The plant on the Caithness coast is to be demolished and cleaned up by 2025.
However, some land will remain a restricted area for 300 years after that date because it will be used to store low-level radioactive waste.
In a new document, the council said safe, cleaned up land should be made available for other businesses.
These include renewable energy companies.
Highland Council's expectation is contained in supplementary guidance to a document called Dounreay Planning Framework 2.
It sets out requirements for the restoration and reuse of land at the 136-acre (55ha) site.
The local authority wants to see as much contamination-free land as possible to be made available for reuse, and not kept out of bounds.
Dounreay is a major employer in the far north. It also generates millions of pounds annually for the Highland economy.
About £63m-a-year is spent on purchases and services from companies based in Caithness and north Sutherland.
It is also estimated that Dounreay puts £90m-a-year into the Highland economy.
The framework document is part of a wider effort to find ways of filling the huge gap in work and income that will be left when the site is closed.