Michael Crombie jailed after raping women in their Inverness homes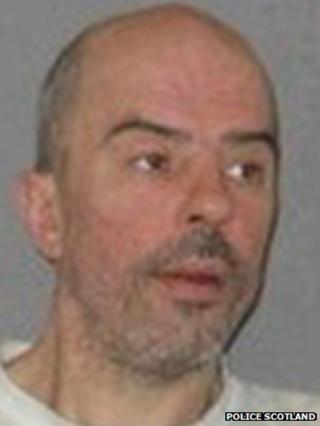 A man who raped and abused women after moving in with them has been jailed for 14 years.
Michael Crombie, 47, had denied the offences carried out at properties in Inverness between 1989 and 1996, as well as assaulting one victim's child.
One of two women he raped managed to escape out a window with her children.
Sentencing Crombie at the High Court in Glasgow, judge Lord Armstrong said he had deliberately created an "atmosphere of fear" in the women's homes.
The judge said: "They were terrified of you and how you might abuse them next.
"You presented yourself initially as a charming man, but, on becoming part of their lives and moving into their homes, you quickly became controlling, manipulative and violent."
Police Scotland described Crombie's victims as brave and courageous for coming forward and alerting officers to his crimes.
Det Insp Vincent McLaughlin said: "The resulting police investigation identified a number of other victims and established a sickening course of conduct involving the physical and sexual abuse of women and the physical abuse of a child by Michael Crombie.
"These were terrible domestic abuse crimes committed by a dangerous predator towards females."
He added: "As a result of the tremendous courage shown by all of his victims, Michael Crombie has been brought to justice, removed from society and the public are now protected from further abuse by him."
Repeatedly locked
The jury at Crombie's trial at the High Court in Edinburgh heard how his first victim was repeatedly assaulted while they stayed together in properties in Inverness.
In 1993, he then turned his attention to a second woman who soon became the target of his violent temper - including one assault with a poker.
The trial was told how the woman was regularly seen bruised, bleeding and with black eyes.
Crombie went on to repeatedly rape the woman before also assaulting her young daughter, who was only four or five at the time.
In 1996, Crombie moved in with another woman.
The court heard how he raped her and repeatedly locked her in her Inverness home - including one occasion when she was held for two weeks.
She eventually managed to escape with her children by climbing from a window.
Crombie had denied all the allegations.