Celtic art at Rosemarkie museum wins recognition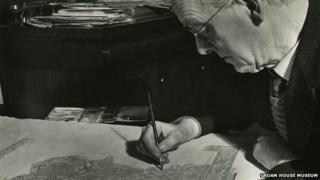 A collection of Celtic art has been awarded national importance status by Museums Galleries Scotland.
The George Bain Collection at Groam House Museum in Rosemarkie is the first in the Highlands to gain the recognition.
Bain, an artist and teacher who died in 1968, studied ancient and more recent techniques used in creating Celtic art.
He made his own designs and the collection includes examples of his jewellery and paintings.
It is the only collection of its kind in the world.
Bain spent many years studying the original complex designs drawn in Celtic manuscripts and carved on Pictish stones.
Groam House Museum also has ancient Pictish stone carvings in its collections.
Ray Macfarlane, chairman of Museums Galleries Scotland's recognition committee, said the Bain collection was impressive.
He said: "The recognition committee unanimously felt that the collection cared for by Groam House Museum is completely unique - there is no other collection like this anywhere in the world and it is an intrinsic part of our culture as it represents Scotland's identity at an international level."
Bill Bound, chairman and treasurer of the Groam House Museum, said staff and volunteers were proud to have gained the status.
He added: "The George Bain Collection is such that we can exhibit, teach, research and share the collection with a wide audience.
"We have exciting plans to undertake all these activities over the next few years."