Rings reveal migrations of Moray Firth wading birds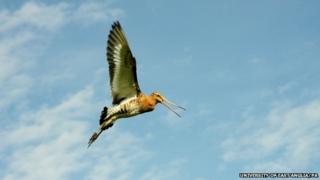 Bird enthusiasts in the Highlands have said almost 40 years of "ringing" birds have revealed the long-distance migrations of wading birds.
Knot and bar-tailed godwit are among waders that have been trapped at the Moray Firth and their legs fitted with rings before being released.
More recently, satellite transmitters have been placed on some birds.
The Highland Ringing Group said the work had shown that waders were visiting Iceland and Arctic Russia.
Over almost 40 years, 75,000 birds have been ringed. Many of them migrate to Scotland for the winter.
The project has revealed that 80% of redshank are from Iceland while knot, turnstone and purple sandpipers fly from the high Arctic.
Ringing has also shown that bar-tailed godwit arrive from Russia and Scandinavia and black-tailed godwit from Iceland.
'Environmental cue'
Scottish Natural Heritage funded the fitting of satellite transmitters to curlew.
The results of this project suggests that it takes the birds 26 days to migrate from Scandinavia to the Moray Firth area.
Trapped birds are also weighed.
The Highland Ringing Group said studies on redshank had shown that they gain weight over the winter, and in particular prior to the onset of cold weather periods.
The group said it was not known how the birds knew cold weather was coming, but they appeared to have some "environmental cue" that warned them.