Moving mountains: How do you alter a hill's height?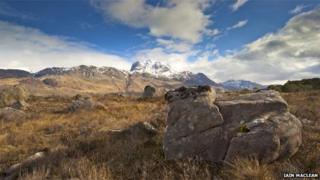 Knight's Peak on Skye's Pinnacle Ridge has been found to be shorter than previously thought, but how did a team of amateur surveyors measure it?
The effort to accurately record the heights of Scotland's tallest mountains began more than 120 years ago.
London-born Sir Hugh Munro, one of the original members of the Scottish Mountaineering Club, started listing them in 1891.
Trekking to a mountain top, he used an aneroid barometer to help him calculate its height.
Arthritis ended Sir Hugh's climbing ventures when he was in his late 30s.
He died from pneumonia in 1919. He was 63.
At the time he was in Tarascon in war-ravaged France where he had been working with the French Red Cross. He was a long way from the Scottish peaks that today bear his name as a classification. A Munro is a mountain of more than 3,000ft (914.4m).
New technology has allowed today's mountaineers to reassess some of Sir Hugh's measurements.
Alistair Milner of The Munro Society believes the aristocrat would have approved. "Sir Hugh Munro was a stickler for accuracy. We are just carrying on his tradition," says Mr Milner.
Three of the key figures in continuing this "tradition" are mountaineers and amateur surveyors Graham Jackson, John Barnard and Myrddyn Phillips.
They have form for moving mountain heights either up or down.
In Scotland, their surveys have led to Sgurr nan Ceannaichean and Beinn a' Chlaidheimh being demoted from Munro to Corbett status.
They also confirmed Buidhe Bheinn to be the higher summit of a twin Corbett.
And team promoted Mynydd Graig Goch in Wales and Thack Moor in England to 2,000ft mountain status.
To make their measurements, the surveyors still have to tramp up to summits as Sir Hugh did before them.
Once at the top, a survey-grade GPS antenna is strapped securely to the side of the tallest rock on the summit. The antenna is position to be level with the top of the rock.
Jackson, Barnard and Phillips then look to sophisticated technology 13,670 (22,000km) above the Earth's surface for help.
Their GPS equipment can lock on to a maximum of 12 satellites orbiting the planet and receive two signals, at different frequencies, from each.
The two signals give height readings to within 1m (3ft).
Over several hours hundreds of these readings are recorded and later, once the team is off the mountain, are inputted into Ordnance Survey (OS) software for a final figure.
The surveyors say their heights, which are used by the Scottish Mountaineering Club, The Munro Society and OS, are accurate to within 5cm.
Summing up the process, Mr Barnard told BBC Scotland: "The GPS system we use works on the same principle as sat nav.
"It picks up satellite signals and then, through a lot of mathematics and calculations and computer work, it spews out the accurate results."