Fire service 'still needs to improve' in Highlands and Islands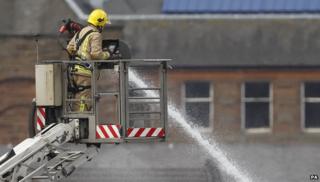 Concerns about efforts to improve the fire and rescue service in the Highlands and Islands have been raised by government inspectors.
Her Majesty's Fire Inspectorate said essential progress could be at risk following the creation of a single Scottish Fire and Rescue Service.
The former Highlands service was under special measures after problems with the training of fire crews.
Overall, the report noted good progress by the new fire national service.
Assistant Chief Fire Officer Robert Scott said the safety of firefighters and communities were the service's main priorities and issues identified in the report were being addressed.
Steven Torrie, HM Chief Inspector of the Scottish Fire and Rescue Service, expressed satisfaction with how the transition process had been carried out, but said reform was a "marathon not a sprint".
Training resources
In the Highlands, the report said it was not yet clear if the new service would be able to deliver a permanent increase in training resources.
It said operational risk information available to firefighters had also not yet reached a satisfactory level and required further monitoring.
The inspector's assessment of the Scottish Fire and Rescue Service comes eight months after Scotland's eight services were merged.
Mr Torrie said his report looked at how management was dealing with the complexity of reform while maintaining "business as usual".
He said: "In general terms, we are satisfied with how the complex transition process is being dealt with and the lack of disruption being caused, recognising that our inspection has taken place during the transitional phase for the organisation."
Mr Torrie added: "As you might expect in the early stages of such a significant reorganisation, there are some issues that we call the service's attention to around service delivery, management and supervision arrangements and the delivery of benefits from reform.
"I am confident that the service will reflect on these points and ensure that the necessary actions are taken."
The report found that "business continuity" had not yet been secured in the former Highlands and Islands service area and recommended ongoing monitoring to avoid a "loss of momentum" in improvements.
Mr Scott said that across Scotland crews responded to a wide range of risks and they were provided with information and training to prepare them for the tasks.
He said crews in the north were being provided with new hardware and also support in training.
The senior officer added: "We now have access to specialist instructors from across the country who can provide additional support in the Highlands and Islands areas as and when required.
"We are also developing more and more ways to take the training to the staff rather than them having to travel to central points. This is already showing improvements in the number of staff being trained."