CairnGorm Mountain opens some runs for snowsports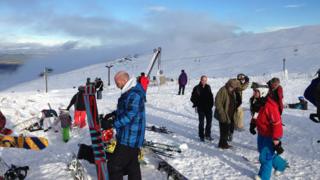 One of Scotland's five ski centres has opened some runs for snowsports this weekend.
Snowfalls over the past couple of months have allowed the Cairngorm centre near Aviemore to make an early start to the season.
On Saturday morning the Ciste runs were "opening" for skiers and snowboarders.
CairnGorm Mountain tweeted: "Its looking good up here...Light winds, -4C, clear and bright. First train 10.00am."
Scotland's most recent ski season was one of the busiest in years, according to the sport's national body.
Ski-Scotland said there were 290,996 skier days between November last year and May 2013.
Skiing and snowboarding at CairnGorm, Glencoe, Glenshee, Nevis Range and The Lecht was also estimated to have raised more than £29m for the economy.
The season was the best since 2009-10, when there were a record 374,789 skier days.
A skier day means one person who skis or snowboards on one day. Many of the same people return to the slopes several times during the season.