SAIS to provide avalanche forecasts for Torridon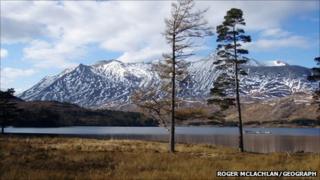 Avalanche risk forecasts are to be provided for mountains in Torridon in Wester Ross for the first time this year.
Sportscotland Avalanche Information Service (SAIS) already gives forecasts for Creag Meagaidh, Glencoe, Lochaber and North and South Cairngorms.
It will run the Torridon service as a trial this winter.
Forecasts will be provided for weekends, the Festive period and mid term breaks during February.
Last winter, eight people died in avalanches - the highest number in four years.
There were five deaths in 2009-10, one in 2010-11 and none in 2011-12.
Nineteen of the 129 avalanches recorded last winter were triggered by human activity.
One was deliberately set off by a ski patrol during an avalanche hazard assessment and two others were triggered by skiers.
Sixteen snow slides were caused by people on foot. The other recorded events were natural occurrences.
'Challenging situation'
In the report SAIS said: "In summary the winter of 2012/13 was a long one, characterised by generally cold temperatures throughout.
"Without the usual thaw cycles that are common in a Scottish winter, instabilities were maintained and weak layers persisted for long periods in the snowpack in a number of forecast areas.
"This snowpack presented a challenging situation for the determination of avalanche hazard, especially when the calm and clear conditions presented a misleading perception of a benign landscape."
While highlighting the dangers, the SAIS added that many thousands of people had enjoyed some of the best winter climbing and walking conditions in the Scottish hills for many years.
Avalanche reports are made available online between December and April.
They were viewed 384,556 times between those months last winter, with more than 58% of those viewings being made from locations in England, almost 38% in Scotland, about 2% in Northern Ireland and just over 1% in Wales.