Police back limits on off-sales in 25 areas of Highlands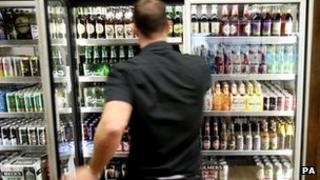 The opening of new off-licences should be discouraged in specific parts of the Highlands, Police Scotland has said.
Twenty-five areas have been identified by NHS Highland as having the greatest incidence of alcohol-related harm.
Police support an idea that Highland Licensing Board adopt a presumption against granting off-sales licences of a certain size in these areas.
They include Invergordon, Dingwall, Tain, Alness, Nairn East, Lochalsh and parts of Inverness.
The other areas are Sutherland North and West, Thurso West, Thurso East, Caithness South, Skye North West, Skye South, Skye North East, Lochaber East and North.
Also Wick North, Wick South, Fort William South and Fort William North.
The parts of Inverness identified are Drummond, Kinmylies and South West, Hilton, Muirtown, Central, Raigmore and Longman, Ballifeary and Dalneigh and Merkinch.
Highland Licensing Board has consulted on a number of options that would restrict numbers of off-licences in its area.
Another option being considered by the board is for a Highland-wide presumption against further licences for off-sales over a certain capacity.
This option has support from Inverness, Highland and Islands Licensed Trade Association and Highland Violence Against Women Partnership.
The licensing board will discuss the responses to the consultation at a meeting next week.
NHS Highland has examined the issue of overprovision.
The health board has said 40.5% of the Highland population exceed weekly and, or, daily drinking limits.
It has reported that 11,400 men and 4,640 women in the health board's area were alcohol dependent.
And while alcohol-related hospital admissions have fallen, NHS Highland said the cost of dealing with the harm caused by drink was £85m in 2010-11.
The Scottish government has asked that all local authorities have a policy on the overprovision of alcohol.