Wick's Caithness General 'meeting most' hygiene rules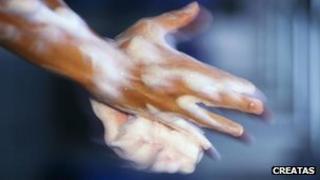 Staff at Caithness General in Wick are complying with most national standards on hygiene, according to a new report.
A Healthcare Environment Inspectorate inspection team made an unannounced visit to the hospital in September.
While most infection controls were being met, inspectors found dirty and contaminated patient equipment in two areas of the site.
NHS Highland has been asked to meet three requirements and three recommendations to improve cleanliness.
Caithness is an acute general hospital with 74 beds.
Its services include accident and emergency, assessment and rehabilitation, palliative care, obstetrics, renal, general surgery and general medicine.
The HEI previously inspected the hospital in September 2012. That inspection resulted in three requirements and six recommendations.
Following the latest visit, chief inspector Susan Brimelow said NHS Highland was complying with the majority of standards to protect patients, staff and visitors from the risk of acquiring an infection.
She said staff had demonstrated "a good awareness and understanding" of the health board's infection prevention and control manual.
Workers had also started to take measures to control the risk of Pseudomonas aeruginosa, a bacterium that can cause lung infections.
But Ms Brimelow added: "We found dirty and contaminated patient equipment in two areas of the hospital and when we returned the next day to one of the areas action was still needed to improve cleanliness of patient equipment.
"The high dependency areas of the hospital had dust on high and low level surfaces."