Inverness food waste scheme to be extended to flats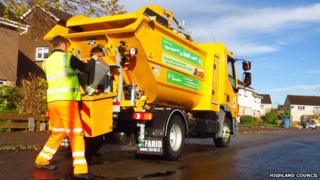 Food waste collections in Inverness are to be extended to flatted properties, Highland Council has said.
The city is the first place in the Highlands where waste and unwanted foodstuffs are collected to be turned into an agricultural fertiliser.
About 28,000 households in Inverness, Culloden, Smithton, Balloch and Milton of Leys are involved at the moment.
Weekly collections started in September and will be extended to flats within the next few months.
So far about 200 tonnes of waste food has been picked up. Previously the rubbish ended up in landfill sites.
The council said contamination with the wrong material had been "very low".
Most raw and cooked foods such as fruit, vegetables, bread, dairy products, fish and meat - including bones - rice, pasta, tea bags and coffee grinds can be composted.
Highland Council said liquids, oils and fats should not be put in the bins provided for the collections.