Highland Wildlife Park's stag rut champ lives up to name Thor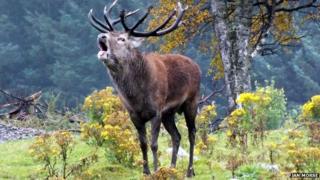 A stag called Thor has triumphed in the rutting season at the Highland Wildlife Park at Kincraig.
Park staff said the battle for control of the site's herd of almost 50 red deer equalled fight scenes from the new film, Thor: The Dark World.
The stag, the park's oldest at 14, had to see off a challenge from a younger rival called Atlas.
Thor is likely to face greater competition next year as several other males are expected to join the rut.
Douglas Richardson, head of living collections at the park, said stags' battles for dominance were noisy and violent.
He said: "As Scottish red deer are grazers, visitors often expect them to be tranquil and docile, so they get quite a shock when the rutting season arrives and the males start to bellow and roar.
"Thor in particular lives up to his name and his hollering can be very impressive - this boy is certainly no Bambi."
Thor: The Dark World opens in cinemas in the UK and Ireland on Thursday.
It stars Australian actor Chris Hemsworth in the lead role and British actors Christopher Eccleston, Tom Hiddleston and Anthony Hopkins.